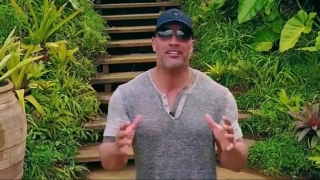 Совсем недавно Дуэйн Джонсон и Эмили Блант представили первое видео со съемочной площадки «Круиза по джунглям», а Disney уже спешит поделиться новым видео. На этот раз Дуэйн Джонсон рассказывает о съемках один, но камера показывает куда больше – отдаляясь от Джонсона, она охватывает по-настоящему огромную съемочную площадку фильма.
Напомним: в основу «Круиза по джунглям» лег одноименный аттракцион из Диснейленда, придуманный самим Уолтом Диснеем. Сценарий написали Джон Д. Пэйн и Патрик МакКей, а дописывал его Майкл Грин. Это не первая адаптация аттракционов в фильм: ранее успехов добилась экранизация «Пиратов Карибского моря», которая на данный момент, правда, переживает не лучшие времена. Съемки же «Круиза в джунглях» начались еще в мае и продлятся до конца лета. Выход картины намечен на 11 октября 2019 года.
"*watch 'til the end and see one of the most awe inspiring & massive sets ever built from scratch.
Walt Disney, this one's for you buddy! 🤙🏾💫" (via @TheRock) pic.twitter.com/1eEf7fYRiW — Walt Disney Studios (@DisneyStudios) 9 августа 2018 г.
Читайте THR в Twitter