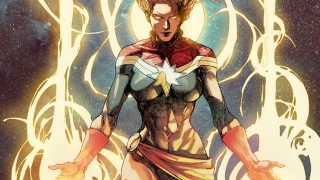 Marvel Studios наняла Женеву Робертсон-Дуорет, чтобы переписать/дописать сценарий «Капитана Марвел». Сценарист, предварительно написав другие высококлассные «женские» проекты, в том числе предстоящую перезагрузку «Лары Крофт» и проект Warner Bros. «Сирены Готема», пришла на проект на смену писателям Мэгу Лефау и Николь Перлман - они написали первый черновик фильма.
На Comic-Con был показан кусок концепт-арта для фильма режиссеров Анны Боден и Райана Флек, который вы можете посмотреть ниже:
I don't mean to ignore all of u requesting the higher res of #CaptainMarvel I painted. Sorry but I can't ☹️When I get green light I def will pic.twitter.com/eAS3ccSEGm — Andy Park (@andyparkart) 12 августа 2017 г.