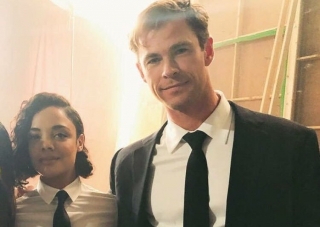 В сети появились кадры Криса Хемсворта и Тессы Томпсон со съемок спин-оффа «Людей в черном» — напомним, Хемсворт играет там агента Эйч, а Томпсон — агента Эм. Известно также, что агент О в исполнении Эммы Томпсон появится в картине, а вот засветятся ли в новой оригинальной трилогии персонажи Уилла Смита и Томми Ли Джонса — пока что вопрос.
Фотографиями со съемок в Нью-Йорке поделились в Твиттере журналисты издания Slash Film: на них видно, что и Тесса, и Крис носят знаменитые черные костюмы.
I, for one, am very excited for Tessa Thompson Wears A Suit: The Movie pic.twitter.com/Ehzo7N94dt — Chris Evangelista (@cevangelista413) July 28, 2018
Также в себя в соцсетях Хемсворт выложил небольшое видео тренировок для фильма в Лондоне. На нем актер отрабатывает сражение с инопланетянином и случайно задевает своего напарника ногой по лицу.
Outdoor session in London for MIB!! Cheers to @zocothebodypro for posing as an alien and letting me beat up on him. Sorry for the boot in the face 😬😁 #MenInBlack pic.twitter.com/lFP3sZBYkK — Chris Hemsworth (@chrishemsworth) July 27, 2018
Новых «Людей в черном» снимает Ф. Гэри Грей («Законопослушный гражданин», «Голос улиц»). Премьера запланирована на 17 мая 2019 года.
Смотрите THR в Instagram