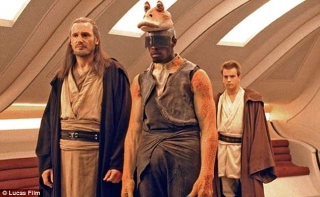 Ахмед Бест, исполнитель роли Джа-Джа Бинкса в «Звездных Войнах», поделился в своем твиттере фотографией и рассказал о том, как тяжело ему было переносить ненависть фанатов франшизы. Джа-Джа является одним из самых ненавистных персонажей среди фанатов и токсичное общество нередко обрушивалось не только на нелепого пришельца, но и на самого актера.
20 years next year I faced a media backlash that still affects my career today. This was the place I almost ended my life. It's still hard to talk about. I survived and now this little guy is my gift for survival. Would this be a good story for my solo show? Lemme know. pic.twitter.com/NvVnImoJ7N — Ahmed BEst (@ahmedbest) 3 июля 2018 г.
«Скоро будет 20 лет с того момента, как я столкнулся с волной негатива, которая до сих пор влияет на мою карьеру. В этом месте я едва не покончил с собой, и об этом тяжело говорить до сих пор. Я выжил, и этот маленький парень – мой дар за это. Будет ли это хорошей историей для сольного шоу? Дайте знать».
As a person who bashed Jar-Jar left and right, its time I said I'm so sorry for contributing to that backlash. You didn't deserve it, (still don't deserve it) the hate and derision. I'm glad you're still around. — Kimmers Hickey (@OctopusOwl) 3 июля 2018 г.
Ahmed is one of the kindest people you could hope to meet and incredibly talented. Much ❤️and respect! — Tracy Cannobbio (@Tcann13) 3 июля 2018 г.
Nothing but appreciation and admiration for your strength and honesty in this post, Ahmed. You are powerful proof that no role or single moment can define you. We are works in progress always and we never know what's around the corner if we just keep on fighting. #respect 👊🏽 — John Steven Rocha (@TheRochaSays) 4 июля 2018 г.
Против ожидания, пользователи ответили актеру не очередной волной ненависти, а сочувствием. Немалое количество людей признавались, что любят Джа-Джа, а в комментариях отметились не только простые пользователи. Позже Бест сказал, что займется созданием шоу и поблагодарил пользователей за поддержку.
Thank you all for your love and kindness. Its been overwhelming. I'm gonna start writing this show. Gonna need help cause I've never done this before. I will be trying stuff out and posting it here. Let folks know. Thanks for all your support. It means so very much to me. — Ahmed BEst (@ahmedbest) 4 июля 2018 г.
Смотрите THR в Instagram