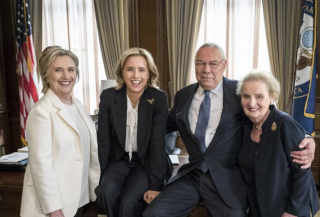 Трое бывших госсекретарей США Хиллари Клинтон, Мадлен Олбрайт и Колин Пауэлл приняли участие в съемках нового сезона американского сериала «Мадам госсекретарь».
We've got some BIG guest stars in store for Season 5! Former Secretaries of State @HillaryClinton, @Madeleine, and Colin Powell will be appearing on the season premiere of #MadamSecretary on Sunday, October 7! pic.twitter.com/C4WrY2EcMk — Madam Secretary (@MadamSecretary) July 24, 2018
Бывшие руководители департамента появятся в первом эпизоде нового сезона в роли самих себя. По сценарию, главная героиня сериала, госсекретарь Элизабет Маккорд обращается к ним за советом.
Олбрайт, занимавшая пост госсекретаря США с 1997 по 2001 год, стала первой женщиной на этой должности. Пауэлл работал на этом посту с 2001 по 2005 год. Клинтон возглавляла госдепартамент с 2009 по 2013 год. 
Читайте THR в VK