Architects: OMA
Location: Amsterdam-Zuidoost, The Netherlands
Architect In Charge: Rem Koolhaas, Reinier de Graaf, Ellen van Loon
Current Team (Construction + Interiors): Katrien van Dijk (Project Leader), Tjeerd van de Sandt, Saskia Simon, Marina Cogliani, Jung-Won Yoon
Area: 19,000 sqm
Year: 2014
Photographs: Courtesy of OMA – G-Star
Team (Interiors Concept): Saskia Simon (project leader), Marlies Boterman, Marina Cogliani, Karolina Czeczek, Green van Gogh, Sarah Moylan, Mafalda Rangel, Tjeerd van de Sandt
Team (Sd/Dd/Td): Richard Hollington III (associate in charge), Tjeerd van de Sandt (project leader), Fred Awty, Philippe Braun, Kaveh Dabiri, Katrien van Dijk, Hans Hammink, Mariano Sagasta, Koen Stockbroekx
Team (Competition): Richard Hollington III (associate in charge), Fred Awty, Philippe Braun, Rob Daurio, David Gianotten, Shabnam Hosseini, Andreas Kofler, Ippolito Pestellini Laparelli, Lawrence Siu
Tender Documents: ABT
Structure Consultant: ABT
Mep Consultant: ABT
Building Physics: DGMR
Contractor: Pleijsier Bouw
Client: G-Star RAW C.V.
From the architect. Situated next to the A10 in the industrial ZuidOost area of Amsterdam, the new HQ for G-Star RAW will consolidate G-Star RAW's disparate facilities into a single building that aims to stimulate interaction between various departments.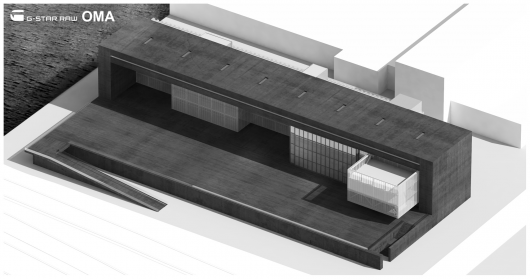 The 27,500m2 horizontal building – 140 metres long – consists of a creative nucleus containing the core departments of G-Star RAW, which are enveloped by a ring of offices, parking and support facilities. The distinction between the support activities and the creative core is heightened through contrasting materials – a monolithic solidity rendered in black concrete for the ring, while the creative core is visible through the glass façade. The lower part of the ring forms a plinth for parking and drop off; the plinth also provides a location for installations and events.
The main entrance is situated at the level of the plinth and is underneath a cantilevered glass box that houses G-Star's showrooms. This end of the building, distinct from the inner workings of G-Star, is dedicated to visitors; however there is still exposure of these inner workings through controlled views and access.
Inside the creative core of the building, staggered floor plates and double height spaces promote a dynamic exchange between the different creative departments allowing for cross communication. The RAW-space, a flexible multi-use zone, either open to the outside or concealed behind sliding hangar-type doors, provides a space for work and production, parties, and fashion shows. Oriented towards the A10, the shifting façade and changing uses of the RAW-space, together with the various possible uses of the plinth, will create a constantly varying appearance reflecting the inner dynamism of G-Star RAW.
* Location to be used only as a reference. It could indicate city/country but not exact address.