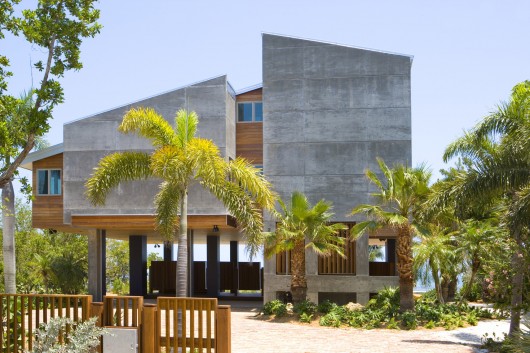 Architects: Luis Pons Design Lab
Location: Tavernier, FL, USA
Architect In Charge: Luis Pons
Photographs: Stephan Goettlicher
From the architect. The main purpose of the renovation was to establish a relationship with the surroundings that will integrate the sense of living in the tropics, taking advantage of the spaces in between the outside and inside and validating those as the desire tropical way of living. The project required a addition that was overlap to the existing and extended towards the street side creating a new and more private gesture.
"The house was renovated in a way that allows privacy from the street, but opens towards the park and the ocean. All services are located on the street side and the main living areas face the views. The main spaces are an extension of the surroundings, and treated as a canopy that allow one to be protected but with a sensation of being outside.
The aim was to re-design the ground level to become a tropical cover plaza, a plaza that would become an outdoor living room, which would also integrate nature into the ground floor, and allow the garden to pass through the space. In this specific case the tropical plaza became the main living area on the ground floor."