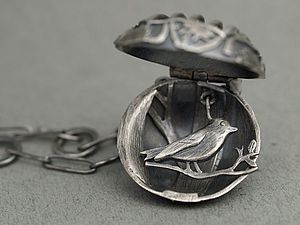 Хочу показать подборку нежно любимого мною вида украшений. Я их называю "коробочка с секретом". А вообще это медальон-коробочка и часто это не только медальон, кольца, например, тоже бывает с "секретом".
Автор украшения в заголовке темы REBECCA FARGHER
Это прямо-таки тайные врата, автор Chris Irick
Year of the Dragon by Wanaree Tanner. Крышка украшена горячей эмалью.
SilviasCreations. Коробочка необычной формы, открывается верхняя крышка.
Dana Stenson
Linda Kindler Priest: Young Lily-Trotter, Птенец птички с необычным названием Якана. Медальон+брошь из золота с коньячными брильянтами и рубинами. Жаль фото маленькое и только одно, не видно как она выглядит, когда брошь.
Roxan Waluk Тема птиц и их гнёзд очень популярна у создателей коробочек или мне такие попадаются чаще?
Anna McDade Jewellery
Thomas Mann
Julia Thompson: Rose Quartz Locket
Paperface Studio Handmade А тут можно записку с заклинанием спрятать )
Bronwen Tyler-Jones - metal box amulets
Beth Millner Очень мне нравятся её многослойные работы. И коробочка у неё тоже нашлась )
Ну и вот такая симпатичная коробочка.
А вот и колечки. Колечко из пенни. Penny ring
Иная конструкция, но тоже коробочка.
Victoria Lansford
Вот такие они коробочки с секретом!
Как Вам такой тип украшений? Хотели бы себе? А что бы хранили?