The Menil Collection has unveiled details of the long-awaited Menil Drawing Institute, designed by Los Angeles-based Johnston Marklee, in Houston, Texas. The modest, $40 million institute is projected to the first freestanding facility in America dedicated to modern and contemporary drawing, as well as the Menil's first major expansion initiated under the ambitious 30-acre master plan designed by David Chipperfield Architects.
Details on the design, after the break…
Topping out at 16 feet, the white single-story structure will be organized around a trio of courtyards, two of which will provide entry to a central "living room." Optimum daylighting control will be provided by a ultra-thin steel plate roof, reminiscent of "a piece of folded paper" floating amongst the trees.
Half of the drawing institute's 30,150 square feet will be devoted to underground storage, while its ground floor hosts a 3,000 square foot exhibition space, a scholar's cloister surrounding the third courtyard, seminar rooms and a conservation lab.
"It's very respectful of the environment and yet it really opens up the campus into a new phase," stated Menil director Josef Helfenstein.
Johnston Marklee is also designing a new energy control center for the campus, while  Houston's Stern and Bucek develops the Bistro Menil. Michael Van Valkenburgh Associates will also aid the Menil's transformation with a revision of the campus' Alabama Street entry as well as implementing a more sustainable landscape.
The Menil Drawing Institute is slated to break ground in early 2015.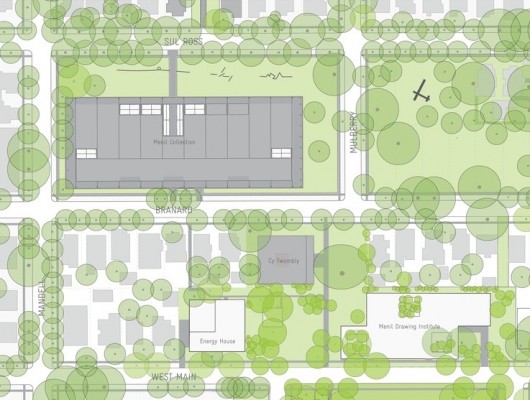 Reference: The Houston Chronicle, Houston Culture Map