Вдохновившись набирающей популярность социальной сетью Pinterest, фанаты Леди Гага, которых она называет, к слову, Little Monsters (Маленькие Монстры), организовали новое сообщество LittleMonsters.com. Слоган сети, появляющийся при регистрации, «Share your passion and creativity in a community full of art, acceptance, monsters and Gaga.» ( «Делись страстью и креативностью в сообществе, полном искусства, терпимости, монстров и Гаги»).
Социальная сеть, объединяющая фанатов певицы, призвана увеличить ее присутствие в медиа пространстве. Помимо новостей о Леди Гаге, сайт предполагает общение фанатов, выкладывание собственных фото/ видео материалов, постов и прочие атрибуты социальных сетей. На данный момент самыми популярными обсуждениями являются запугивание ( bullying) и ЛГБТ- связанные темы.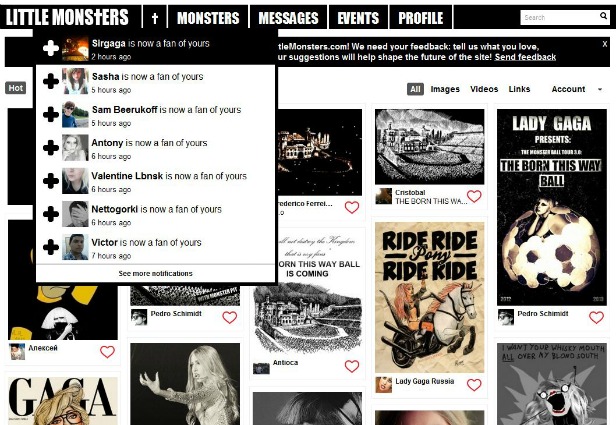 Помимо созданной сети, у Леди Гагы существует официальный Twitter @ladygaga с 27 миллионами подписчиков.
Written by Badger (c)